Tips Mengoptimalkan Artikel untuk Mesin Pencari
Rencanakan penulisan naskah anda agar mudah diindex oleh mesin pencari. Tips berikut merupakan panduan yang kami tulis ulang (sesuai izin dari Wiley).
5 tips for increasing your article's search engine discoverability
1. Create a search engine friendly title
☑ Include 1-2 keywords related to your topic
Place your keywords within the first 65 characters of your title
☑ Keep your title short
Condiser moving a phrase from your title to the first or second sentence of your abstract
2. Optimize your abstract
☑ Place essential findings and keywords in the first two wntences of your abstract
Only the first two sentences normally display in search engine result
☑ Repeat your keywords 3-6 times
Don't forget the purpose of your abstract is to express the key points of your research, clearly, and concisely
See below for an example of a well-optimized abstract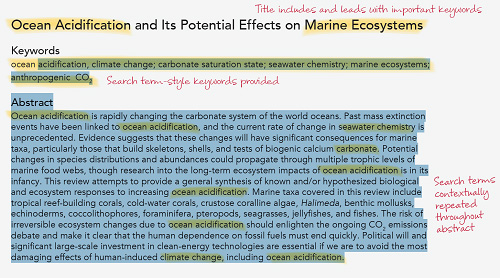 3. Use keywords throughout your article
☑ Include keywords in your title (1-2), abstract (2-3), and keywrod fields (5-7)
Keywords may be keyword phrase rather than just single words
☑ Incorporate keywords in your headings too
headings tip off search engines to the structure and content of your article
☑ Find spesicif keywords on Google Trends and Google Adwords keyword tools
Remember that keywords are important for A&I services as well as SEO
☑ Use keywords consistent with your field
If you're unsure, check the words used in your field's major papers
☑ Let Keywords flow naturally and in a contextual way
Search engines dislike too much keyword repetition, known as keyword stuffing, and may 'un-index' your article, making it hard to find online
4. Be consistent
☑ Refer to author names and initials in a consistent manner throughout the paper
Remember to be consistent with any previous online publications
5. Build links
☑ Link to your article across your secial media, networking, and institutional sites
The more in-bound links to your article, the more search engines like Google or Bing will value and highlight your content
☑ Encourage colleagues to link to your article
The more links from respected individuals/trusted sites the more powerful the effect. Don't forget to do the same for them!